Hair follicle drug testing or more accurately described as Hair Drug Testing has become a more frequently utilized testing method by employers, courts and individuals. Many employers, courts and Substance Abuse Professionals are requiring a hair drug test rather than the standard urine test. Hair drug tests oftentimes are used by employers or anyone needing a test reflecting a 90 day lookback period or detection window.
Why would someone require a hair drug test?
Hair drug tests are typically used by employers or anyone needing a test reflecting no drug use within the last 90 day period/window. Many times this type of test is required for individuals who are expected to abstain from drug or alcohol use. A hair drug test can be used for court ordered cases, probation or employers who have zero tolerance drug use policy.

The primary benefit of a hair drug test includes a much longer detection period for drug use which typically is up to 90 days from when the hair sample is cut. However, when screening drug use within the last 5 days a urine drug test continues to be the most accurate test since it takes approximately 7-10 days for the drug metabolite to travel through the blood and show up in the hair.
How is a hair drug test performed?
The procedure used to perform a hair drug test is simple. The certified drug testing specialist will cut approximately 120 strands of hair (not really a lot), utilize proper chain of custody procedures and send the hair to a certified laboratory for analysis. Drug testing centers require at least 1.5 inches of hair to perform this test and the hair generally needs to come from the head, however if the donor does not have head hair certain testing centers can use hair from chest, leg or arm pit. (body hair collection)

If a donor has no hair on their body, than a hair test cannot be performed!
What drugs are tested in a hair drug test?
How long until I receive my hair drug test results?
Once the hair specimen is collected and sent to the lab, it goes through several steps for the analysis process.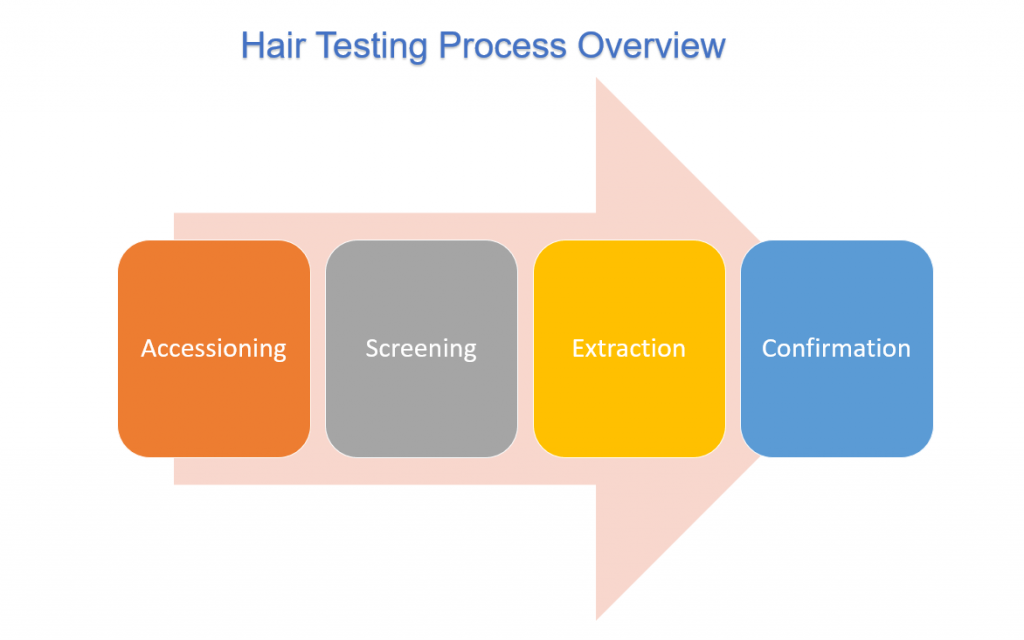 Once the hair follicles have been analyzed by a certified laboratory they will then be reviewed and then verified by a Medical Review Officer (licensed Physician) who will than release the results.
Illustrated below is a more outlined process for hair testing.
Generally a negative hair follicle drug test result is available in 2-3 days. A non-negative hair follicle drug test is available in approximately 5 days. Urine cut-off levels are expressed in nanograms per milliliter (ng/mL) or as a weight of drug per unit volume of urine. Hair cut-off levels are expressed in picograms per milligram (pg/mg) or as a weight of drug per unit weight of hair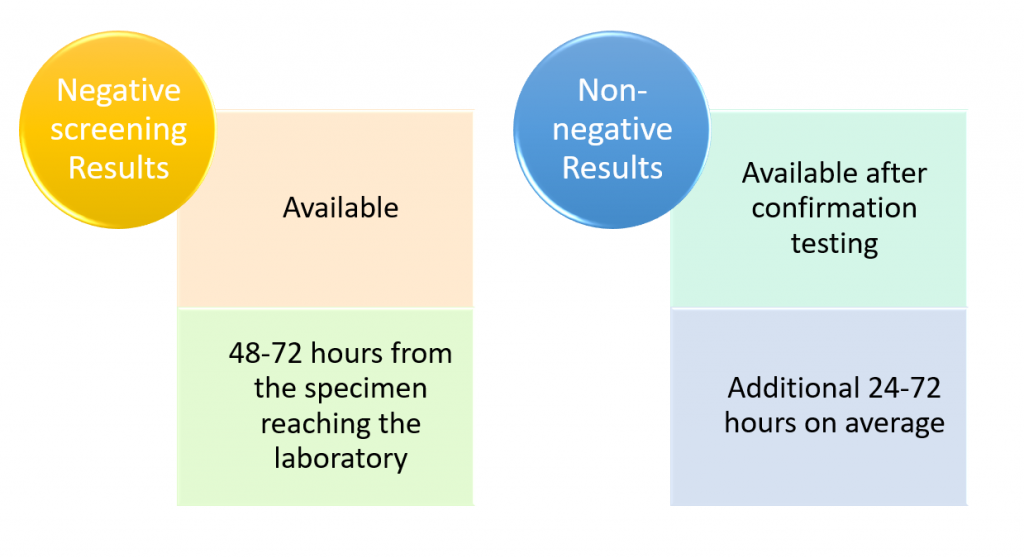 For more information or to schedule your hair drug test today, call us at (800)828-7086.